Crafts you can make using a toilet paper roll.
Are you looking for some easy toilet paper roll crafts for kids to do? Because I have you covered in this article!
Start saving your toilet paper rolls because there are SO many fun creations you can make with them. This list includes some amazing kid friendly toilet paper roll crafts. Not only will you get to repurpose that toilet paper roll, you will also get to have fun crafting with your kids.
1. Toilet Paper Roll Pirate
How cute is this toilet paper roll pirate from Two Kids And A Coupon?!?! It's the perfect craft for any pirate lover and will be easy to customize however you want! All you need is a toilet paper roll, some craft paper and glue!
2. Toilet Paper Seedling Pots
Get your kids excited about gardening with these Toilet Paper Seedling Pots from The Forked Spoon. It will only take 10 minutes to put this craft together, and your kids will love getting to watch their seedlings grow in their homemade pots!
3. Butterfly Toilet Paper Roll Craft
Here's a super fun toilet paper roll craft idea from Fun Money Mom perfect for preschoolers. This butterfly toilet paper craft requires a few more supplies than some of the other craft projects, but it is still quick and easy to throw together.
4. Toilet Paper Roll Pillow Box
I love these toilet paper roll pillow boxes! What a fun, functional craft project for kids to make with a toilet paper roll. They can use them to give gifts to their friends or store their special objects.
5. Toilet Paper Roll Princess Bracelet
Here's a unique craft idea! Use a toilet paper roll to make a princess bracelet! The little girl in your life will love getting to decorate her bracelet to match her personality!
6. Toilet Paper Roll Hedgehogs
Simple Every Day Mom has the most adorable toilet paper roll hedgehog template! You will only need a few supplies in addition to the template and toilet paper roll to make your own hedgehog!
7. Marshmallow Shooter
We made these marshmallow shooters last summer and they were so much fun to play with! You could make them using a patriotic theme like Big Family Blessings does, or customize them to fit your personality!
8. Toilet Paper Roll Bird Feeder
Your kids will have so much fun learning more about birds with this easy toilet paper roll bird feeder craft from Honey and Lime. It doesn't take very much time at all to put together your bird feeder, so you can just sit back and enjoy watching the birds!
9. Toilet Paper Roll Monster
Here's another fun toilet paper craft idea for the kids! Make toilet paper roll monsters and read the book to go with it! It's a great activity for teaching kids about emotions and how to handle the way they feel!
10. Toilet Paper Roll Shaker Instrument
Start a family band with these toilet paper roll shaker instruments! The instrument is made by filling a toilet paper roll with pasta and closing it off with masking tape. Plus, the kids will get to decorate the outside however they would like!
11. Astronaut Toilet Paper Roll Craft
I love this easy craft idea! The tutorial includes a free astronaut template for your kids to color and attach to the toilet paper roll.
12. Toilet Paper Roll Dragon Blower
You can even use a toilet paper roll to make a dragon blower! This is a great tutorial from Ruffles and Rain Boots about how to make a toilet paper roll dragon blower. It is sure to provide hours of fun for your little one to run around with and watch the tissue paper blow.
13. Snowman Toilet Paper Roll Craft
These snowmen toilet paper rolls are so cute! Plus, they are a very simple craft project…..which to be honest are my favorite kind of crafts! You can even make a whole family of snowmen to play with!
14. Toilet Paper Roll Fireworks Stamp
Our family loves to turn toilet paper rolls into fireworks stamps. Then, with a little bit of paint you can use the stamp to make a fun firework painting!
15. Toilet Paper Roll Unicorn
Check out this adorable toilet paper roll unicorn! It's seriously the cutest thing ever, and so easy to make! It's sure to bring a smile to any little girls face!
16. Toilet Paper Roll Binoculars
Go on a Nature Scavenger Hunt with these toilet paper roll binoculars! Go Places With Kids shares a full tutorial and adorable template to help you whip up a few darling binoculars for your kiddos.
17. Toilet Paper Roll Rocket
If you make the astronaut that I shared earlier in this article then you must also make the rocket ship to go with it! It's so easy to make with a little bit of paper, cutting and gluing!
18. Toilet Paper Roll Fairy House Luminaries
These Fairy House Luminaries are such a creative way to use up your toilet paper rolls. I love the idea of setting a battery tea light inside! So fun!
19. Toy Car Storage Out Of Toilet Paper Rolls
If you have a car lover in your house you must make him a car garage out of toilet paper rolls! It's such a cute way to display your toy cars and use up some toilet paper rolls while you're at it!
20. Feelings Learning Activity With Toilet Paper Rolls
Teach your kids about their feelings with this toilet paper roll learning activity/craft. It's so important for young kids to learn how to handle all of their many feelings, and Two Pink Peonies teaches exactly how to do that with a few toilet paper rolls, markers, and paper.
21. Toilet Paper Roll Pencil Case
Can you believe how awesome this toilet paper roll pencil case is?!?! It's such a genius way to repurpose toilet paper rolls. You will have to put in some effort and patience to make the pencil case, but it is the perfect craft for summer to prepare for back to school! Your kids will feel so proud bringing their very own handmade pencil case to school.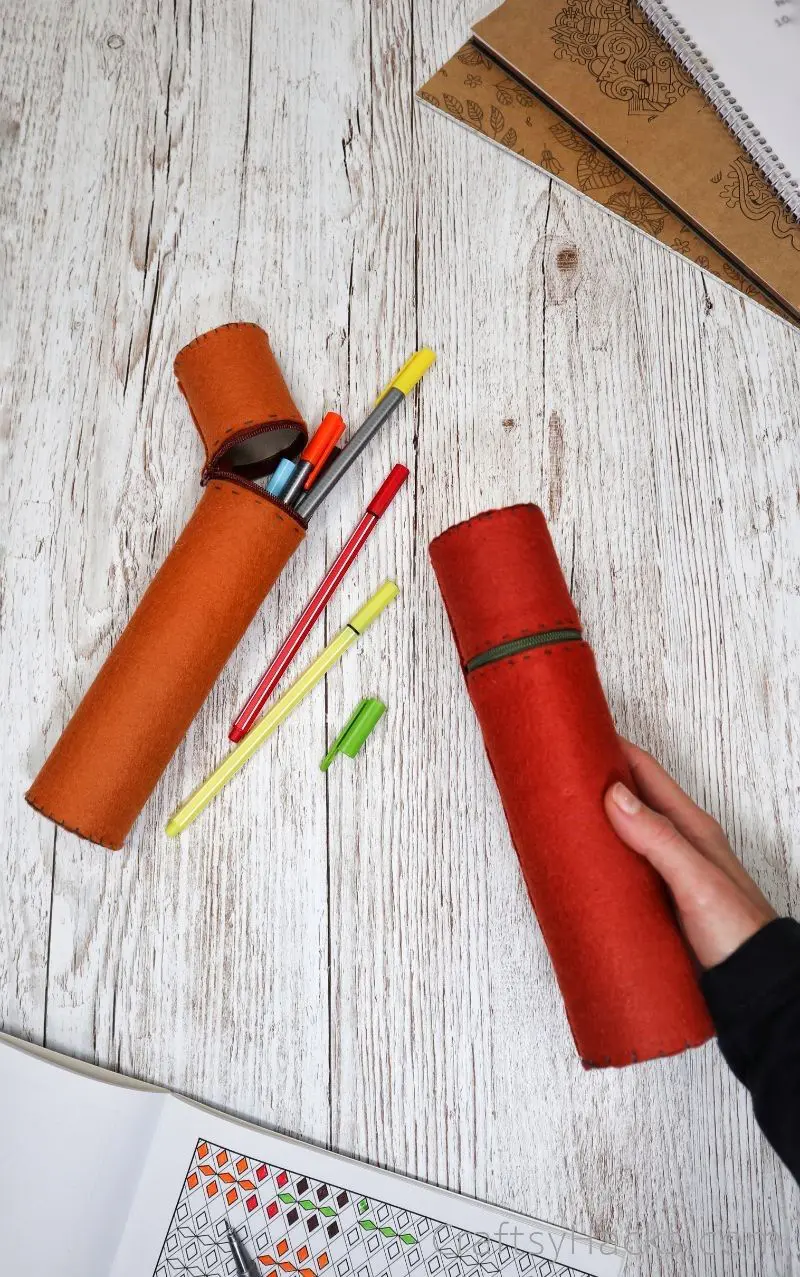 22. Toilet Paper Roll Fish
Kid Friendly Things To Do shares the cutest fish craft tutorial using a toilet paper roll! I would love to make these in a lot of different colors!
In Conclusion
We all go through so many toilet paper rolls each week, so instead of letting them go to waste, try one of these fun craft ideas! It's a great way to spend an afternoon with your kiddos, without having to spend a lot of money!
Check Out These Other Craft Ideas:
Easy Craft With Nature Items: Nature Bookmark Tutorial
How to Make Tissue Paper Pom Poms
Pin For Future Reference:
Enjoy these easy toilet paper crafts!