Check out this list of Cheap Dinners For Families.
Looking for some family friendly meals on a budget? I have you covered in this article!
One of the best ways to save more money is to cook at home more and eat out less. The problem though is that some of us are busy, some of us have picky eaters, and some of us don't like to cook.
I hear your frustrations and struggles! Which is exactly why I found you these 29 simple to cook, and cheap dinners for families. One (or all!) of these are sure to be a new favorite in your household.
1. Instant Pot Chicken Enchiladas
If you are looking for a comforting dinner, try these easy instant pot chicken enchiladas! I love meals that are freezer friendly, and this recipe is just that! Make these enchiladas and stick them in the freezer to use for later.
2. Beef and Broccoli Stir Fry
Got 20 minutes, a pound of ground beef, and some broccoli on hand? You are so lucky: You have the core of this easy Ground Beef & Broccoli Stir Fry recipe all ready to go, the next time you need a quick weeknight dinner idea.
3. Sheet Pan Cashew Chicken
Craving Chinese takeout? Try this easy sheet pan cashew chicken recipe instead! You only need a few ingredients to throw together this quick dinner.
4. Cheap and Easy Doritos Nacho Bake
I love this Doritos Nacho Bake because it it is easy to customize for all taste preferences. Plus, it takes less than 30 minutes to whip up, which is always a huge plus in my book!
5. Air Fryer Chicken Thighs
Air fryer chicken thighs are cheap and tasty, basically all of my favorite things! I love the sweet dry rub in this recipe. It's so easy to make and budget friendly!
6. Garlic Olive Oil Pasta
Check out this quick, meatless Garlic Olive Oil Pasta for an easy dinner. You only need three ingredients for this recipe, and they are all budget friendly. Win-Win!
7. Easy Pasta Bake
If you're needing a quick, kid friendly meal you must try this Easy Pasta Bake. The prep is so ridiculously easy and my kids always devour it!
8. American Goulash
I love one pot recipes, they just make cooking (and clean up!) so much easier! Here is a great one pot recipe using ingredients you probably already have in your pantry! Check out the American Goulash recipe here!
9. Instant Pot Hamburger Helper
Honestly, I want to try every single instant pot recipe that comes my way! I'm all about a quick to fix meal! Instead of buying boxed hamburger helper, just make it yourself in your instant pot with this easy Instant Pot Hamburger Helper recipe!
10. One Pot Pasta
All you need is 15 minutes to whip up this one pot pasta. This is the perfect frugal recipe for those busy days!
11. Baked Chicken and Zucchini Casserole
Check out this Baked Chicken and Zucchini Casserole recipe for a low carb dinner idea. It is both frugal and quick to fix! This would be the perfect meal for using up some of your garden zucchini!
12. Oven Baked Pork Chops
All you need is 5 minutes to prep these Oven Baked Pork Chops. This is a simple, budget friendly sheet pan meal that is sure to become a new family favorite!
13. Chicken Broccoli Instant Pot Casserole
Another budget friendly instant pot recipe is this Chicken Broccoli Casserole. It has very little prep and cooks extra fast using the Instant Pot.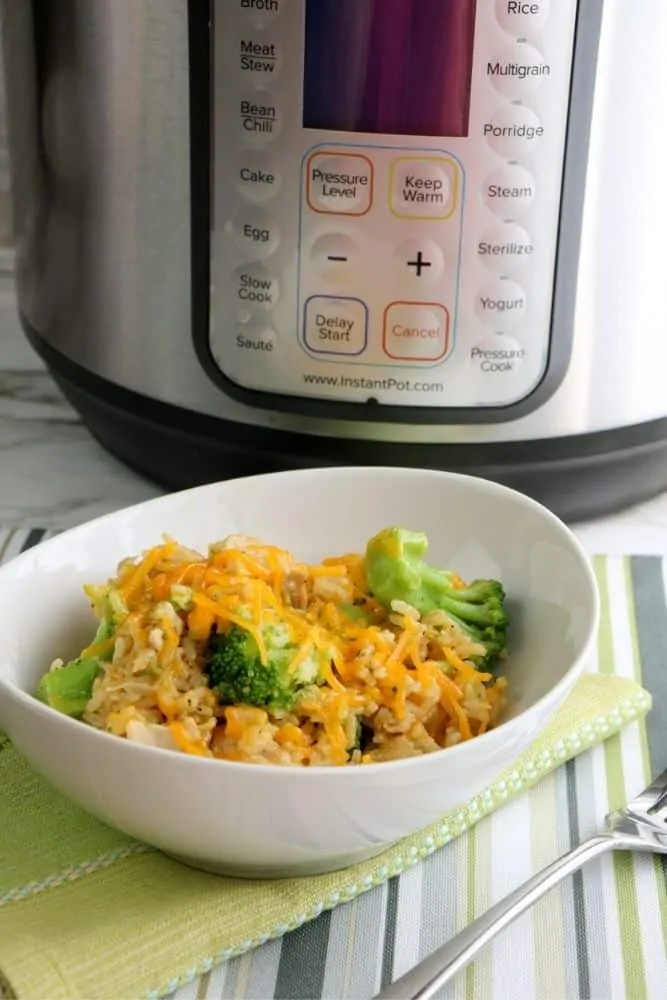 14. Slow Cooker Chicken Tacos
I'm all about celebrating Taco Tuesday, and these Slow Cooker Chicken Tacos are the perfect meal to do that! You can fix it before work and let it cook in the slow cooker. It will be ready right on time when you get home!
15. Instant Pot Pulled BBQ Chicken
Looking for a twist on the traditional pulled pork? Try this Instant Pot Pulled BBQ Chicken instead! You probably already have all of the ingredients in your kitchen, plus it will only take 5 minutes to throw it all together!
16. Easy Chili Verde
You will only need 4 ingredients to make this Easy Chili Verde recipe. You can serve this meal in tortillas, rice or chips! It's so fun to customize it however you want!
17. Mushroom Aglio Olio
This Mushroom Aglio Olio is a quick, easy and budget friendly dinner. With just six ingredients it's on the table in twenty minutes.
18. Easy Skillet Caprese Chicken
If you are a fan of the classic Italian Caprese salad, then you will love this Easy Skillet Caprese Chicken recipe! It has the same amazing flavors added to the top of a sautéed chicken breast. This low carb chicken dinner is a must if you need a quick week night dinner recipe.
19. Easy Slow Cooker Chicken Pot Pie
Here is an easy way to make a Chicken Pot Pie. This recipe uses frozen vegetables, which makes the prep minimal! Feel free to make your own biscuits from scratch (I have an easy recipe in my cookbook) or use refrigerator biscuits for an even easier dinner. The choice is yours!
20. One Pan Spanish Chicken and Rice
Another great one dish meal is this Spanish Chicken and Rice. This meal is so quick and easy, you'll be eating it in just 30 minutes!
21. Cream Cheese Pasta
This Cream Cheese Pasta recipe combines a few simple ingredients to create an easy 10-minute recipe that will keep both your budget and mouth happy!
22. Peanut Butter Chicken
You can use your favorite peanut butter to make this peanut butter chicken recipe. This is the perfect weeknight meal when you are craving take out!
23. Skillet Lasagna
This hearty skillet lasagna recipe is easy to make with Campanelle or Bowtie pasta in a skillet on the stove top! It has all of the flavor of classic lasagna, but a fraction of the work!
24. Cheesy Chicken Burrito Bowl
Love burritos? Try this Cheesy Chicken Burrito Bowl! It takes less than 30 minutes to make and is both filling and delicious!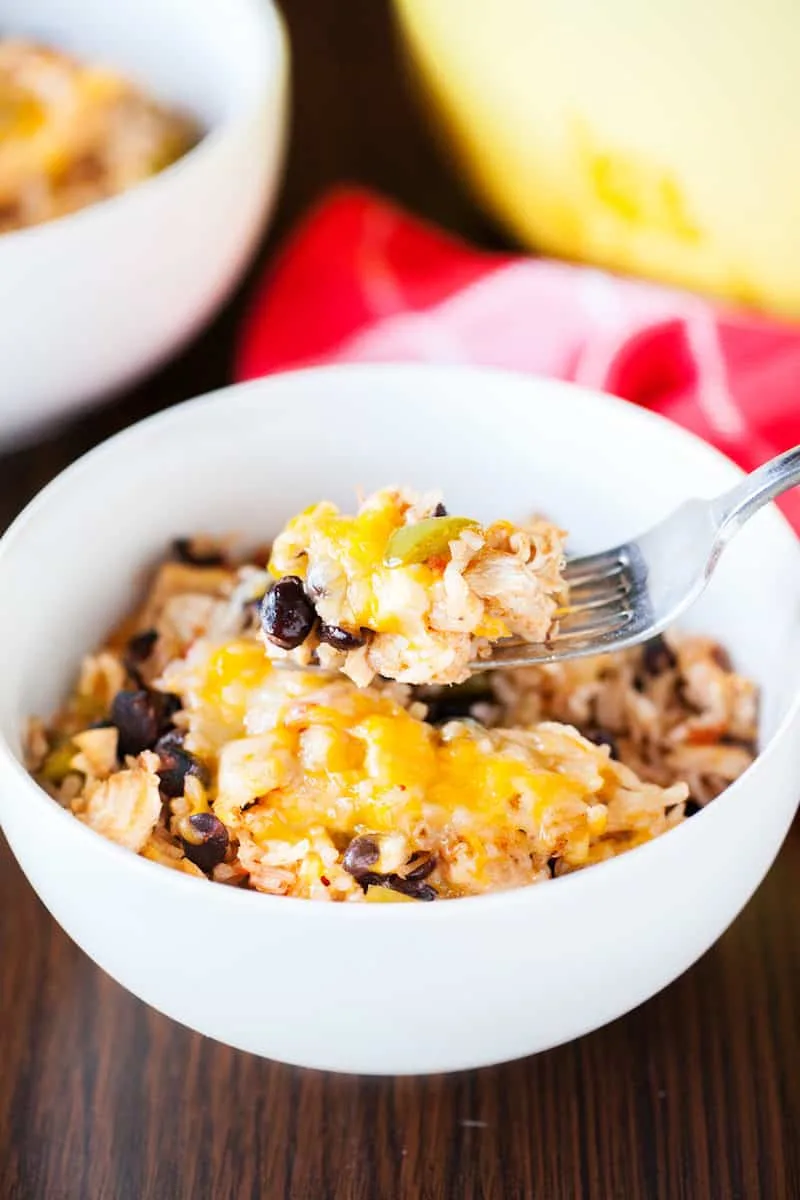 25. Instant Pot Beef Stew
Whip up a quick beef stew in the instant pot with this recipe. It's the perfect hearty meal for a cool autumn day! I especially love that you can cook it using frozen stew meat! You don't even have to remember to thaw it (yay!).
26. Crockpot Sausage and Tortellini Soup
If you're a big fan of easy, family-friendly meals, you've got to try this creamy and delicious crockpot sausage and tortellini soup. With just 6 simple (and cheap!) ingredients, this is sure to become one of your favorites.
27. Easy Cola Chicken
You will love this very simple, low prep Cola Chicken recipe. All you need are 4 ingredients and 30 minutes of your time for a delicious dinner.
28. Oven Baked Lemon Butter Chicken Thighs
I will try just about any recipe that contains the word lemon in the title! It is one of my favorite ingredients! Which is exactly the reason why I fell in love with this Oven Baked Lemon Butter Chicken Thighs recipe. The recipe is simple to follow and produces a moist, delicious chicken!
29. Crockpot Chicken Stroganoff
Crockpot chicken stroganoff is a fun spin on the classic stroganoff recipe. It is a family favorite as well as an easy toss and go crockpot recipe.
30. Quick Waikiki Chicken Recipe
My mom use to make this Waikiki Chicken recipe and it was one of my favorites! I love making it for my own kids now. It's the perfect budget friendly and kid friendly dinner recipe!
You Can Cook At Home!
If you are struggling cooking dinner at home try one of these easy family friendly meals on a budget. I have found that the easier recipes I find, the more likely I am to actually cook it!
Related Articles:
10 Quick Ways to Save Money on Groceries
Freezer Chicken Recipes and How to Freeze Bulk Chicken
Homemade Cream of Chicken Soup Mix Recipe
Pin For Later Reference:
I hope you love these family friendly meals on a budget!